---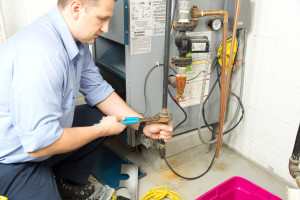 ---
Is Your Home Ready for Fall?
---
---
The leaves on the trees are beginning to change colors, the temperatures are dropping, and plans are being made; Fall is here! Now is the time to do a final check and take the steps to make sure your home is properly prepared for this fall season. Making these changes will guarantee a warm and safe winter for your family, keeping your home running as it should be through the winter season. These are the items that need to be checked in your home this fall:
1. The Furnace and A/C

Now is a critical time to have an HVAC professional come to your house and check the efficiency of your furnace before turning it on this heating season. You should currently be replacing the filters in your furnace on a regular basis but this additional step with ensure a clean and efficient furnace. This tune-up is also a great time for an HVAC professional to check for any additional or potential problems that may require advanced care. These problems should be taken care of now so you don't end up with a broken furnace in the middle of winter.
2. Check the Roof

The roof and gutters on your home act as a shield to keep out the elements that plan to make you chilly this season; rain, snow, hail, wind, and more. Check the gutters to make sure they are free of leaves and debris to ensure the rain can freely flow out of them without blockage. Make sure your roof is secured with no loose shingles or damage that can be seen. Having your roof and gutters up-kept during fall will help ease the transition into winter.
3. Turn Off the Sprinklers

The need for watering lawns is ending which means you are soon going to see a drop in your water bill. Now is the time to begin draining and turning off your sprinkler systems before the first freeze. This helps prevent your pipes from freezing and bursting in the winter months. It is also time to remove all the hoses to store them in a safe location and turn off outside faucets. Don't forget to use an insulated cover to protect the outside faucets from the freeze.
4. Check for Leaks

Search your home thoroughly to check for water and air leaks coming through windows, doors, or cracks in the foundation. Ensure the weathering strips on both the doors and windows is not damaged or missing. If it is, get it replaced to keep your home free from disruptive cold air this winter. This can also help the efficiency of your furnace this winter!
There are a number of things that must be done to protect your home for fall and the subsequent winter. Preventing the problems now is much easier than trying to fix them in the freezing cold of winter. If you do find yourself stuck in the cold, call Superior Water & Air (801) 312-8143 or visit us online.
---