---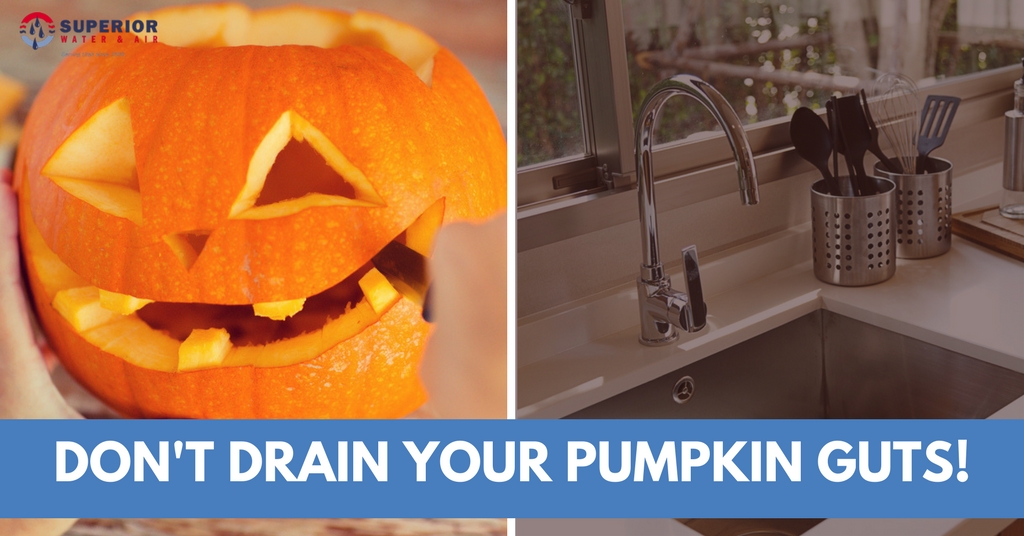 ---
Don't Drain Your Pumpkin Guts!
---
---
It's almost Halloween which means it's almost time to carve pumpkins! What design are you going to carve this year? Are you going to go for something scary or do you prefer something cute? Maybe you want something in between cute and cool. No matter what kind of design you carve, make sure you don't put your pumpkin scraps in the sink!
Pumpkin and Pipes Don't Mix
What's the best way to dispose of leftover pumpkin you don't want to use? Whatever you do, don't throw it in the sink! Why? Pumpkin is relatively soft, right? Well, it may be soft when you're carving, but it doesn't stay that way. Have you tried to scrape off dry pumpkin from your counters? It's really hard to remove, right? Not only does pumpkin stick to your counter, it can stick to the inside of your pipes too, which can eventually lead to a clogged or burst pipe.
It's important to note that no part of the pumpkin is safe to put in the garbage disposal. Not only does pumpkin get hard when it dries, but the stringy pulp can also wrap around your garbage disposal's motor, making it extremely likely that the blades will stop spinning and you'll be without a garbage disposal for Halloween. The seeds in pumpkins can also break the blades, leaving you with an entirely different problem in your garbage disposal.
How to Avoid Putting Pumpkin in Your Pipes
If you want to avoid putting pumpkin in your pipes, here are a few things you can do to stop the temptation of putting your pumpkin scraps into your sink when you're done carving your spooky creation:
Carve your pumpkins on piles of newspaper, garbage bags, or any other flat surface you can pick up and throw away.
Pile pumpkin guts into a bowl to cook or use.
Wash your hands with an outside spigot or wipe your hands with paper towels until the pumpkin is completely removed before washing your hands in the sink.
How to use Your Pumpkin Scraps
If you're thinking about throwing away the leftover pumpkin guts, don't! There are a number of ways you can use the scraps of your carved pumpkin, and most of them are absolutely delicious! Here are just a few easy ways your jack-o-lantern can give back for giving it a beautiful smile:
Roasted Pumpkin Seeds
Making homemade roasted pumpkin seeds is easy, and once you have the pumpkin, you probably already have all of the ingredients. Depending on your tastes, you can go for a simple recipe of pumpkin seeds, butter, and salt, or you can spice things up with some garlic powder or cayenne pepper.
Pumpkin Butter
Check out this recipe for pumpkin butter, no butter required. All it takes is some pumpkin, apple juice, sugar, and some spices to create a delicious spread for toast or bagels, a topping plain yogurt, or used however you'd like.
Pumpkin Bisque
Feeling fancy? Cook up a nice pumpkin bisque with the pumpkin you've removed for your jack-o-lantern. Fall is the perfect time for soup, especially if there's fresh pumpkin involved!
Help! Pumpkin Clogged my Drain!
Did pumpkin end up going down your drain? If you find that carving your annual jack-o-lanterns clogged your drain, there is a way you can unclog the drain, without doing any damage to your sink. While you can use the age-old solution of baking soda and vinegar to help with a slowly draining pipe, if you find that your drain is completely blocked, contact us!
---