---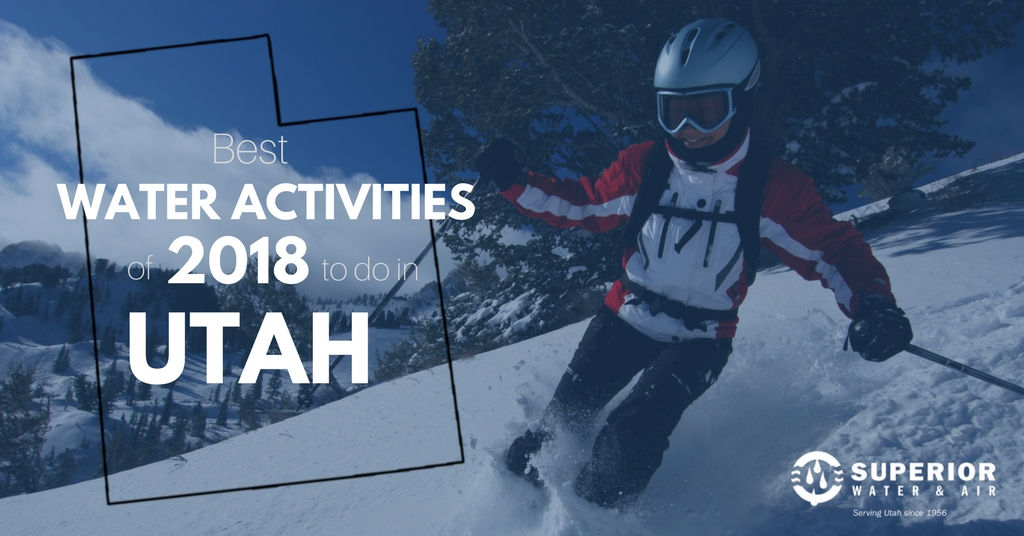 ---
Best Water Activities of 2018 to do in Utah
---
---

Even though Utah is a desert, there are a wide range of water activities you can do throughout the year. Looking to go on a new adventure as your New Year's Resolution? Here are Superior Water and Air's best water activities of 2018 to try each season.
Winter
Soaking in Hot Springs
Can't wait until summer to relax in a pool? Crystal Hot Springs has you covered. Relax in a hot pool or go down a heated water slide, even in the middle of winter. Crystal hot springs is a great place to unwind after the stressful holiday season. The natural hot and cold pools are filled with minerals that create a number of therapeutic and health benefits to create the ultimate relaxing experience.
Location
8215 N Highway 38
Honeyville, UT 84314
Skiing
Utah has been known to have the "Best Snow on Earth." Home to 14 ski resorts, it's just a matter of choosing which one to go to! Snowbird Ski Resort is a short 45 minutes away from downtown Salt Lake City. The great part about Snowbird is the sheer number of activities. It's truly a fun place for all ages. You can ride the tram to the summit, go snowshoeing, or attend guided tours throughout the mountain. You can check their website to see what's open before you go for the best experience.
Location
9385 S. Snowbird Center Dr.
Snowbird, UT 84092-9000
Ice Skating
What better season to ice skate than in the winter? Relive the legacy and skate at the Utah Olympic Oval. There are a number of fun activities you can do, from a casual skate night to Cosmic Skate Night, with a DJ and Utah's largest disco ball. If you have younger kids, you can sign them up for skating lessons! During the summer, cool off at the Kearns Oquirrh Park Fitness Center, which is just across the street!
Location
5662 Cougar Lane
Kearns, UT 84118
Spring
River Rafting
If you want to go whitewater rafting, spring is the season to go! As the snow melts and fills the rivers, the water's flow at their peak speeds. Don't have the gear? Don't worry! Check out Holiday River Expeditions! Their guided tour can help you find the best locations to let you enjoy your ride! You can start booking now and head out in early May.

Summer
Seven Peaks
Seven Peaks was recently renovated to make for an even better water park experience. Filled with amazing slides and a relaxing heated pool, you can choose the experience you want based on the thrill level you want. Depending on where you live, there are two great water park locations in Utah: Salt Lake City and Provo.
Locations
Salt Lake City
1200 W 1700 S
Salt Lake City, UT 84104
Provo
1330 E 300 N
Provo, UT 84606
Lagoon A Beach
Looking to cool off amidst fun rides and slides? Check out Lagoon, home to Cannibal, a ride that features a 208-foot lift that sends riders into a beyond vertical free-fall. Lagoon A Beach, the water park part of Lagoon, offers water slides, waterfalls, and fun fountains. Lagoon park also offers a variety of rides outside of Lagoon A Beach, such as the Cliffhanger or Rattlesnake Rapids. It's a great place to have fun and get soaked!
Location
375 North Lagoon Drive
Farmington, Utah 84025
Fall
Fishing
Fall is the best time to go fishing in Utah! You don't have to deal with the summer heat, you get to see the beautiful trees in fall, and fish are more active as they are preparing for winter. However, before you head out, make sure to get a fishing license first! Choose from a variety of great fishing locations, such as Green River or Lake Powell.

The Best Water is at Home
What are your favorite water activities? Do you like to go out to water parks, or do you prefer a small water party at home? From hot cocoa in the winter to sprinkler runs and kiddie pools during the summer, the best water fun can be had at home. However, if your water doesn't taste good or causes hard water stains and mineral buildup in your pipes, it may be time to invest in a water softener. If you want the best water for 2018, request a free home water evaluation!
---